January Series for University Students & Young Adults (18-25)
The average person spends about a quarter of their week at work. In the midst of the daily grind of the work place, many are plagued with a lack of purpose. Whether you're a student or beginning your career path, Crossroads invites 18-25 year olds to join us as four thought leaders in business, entertainment, and science lead discussion about Success, Integrity, Networking, and Faith in the workplace.
Join us for dinner and discussion groups as we see how and why work matters!
THURSDAYS at 6:30PM
Schedule has been updated due to issues with weather. – (2/4/19)
January 10th
A Theology of Work
Many Christians have mistakenly believed (and many churches have inaccurately taught) that work is a result of Sin. It is often believed that if it were not for the Fall of Adam and Eve that humanity would be eternally resting on garden grass, and that heaven will be a place of resting on clouds and playing harps… but that's not at all the picture of Eden, Heaven or Work that we receive in the Bible.
In this first session, join us as we look from Genesis to Revelation to see what God has to say about our calling to work.
January 17th
Joey Ford
Television Director, Warner Bros.
Joey Ford has been in the entertainment industry for decades. Currently he functions as the Director for Judge Mathis,  a nationally syndicated reality-based court show starring no-nonsense Judge Greg Mathis. Formerly he worked as the Director for Local News Stations in St. Louis and Minneapolis with NBC and eventually became the director of the Meet The Press. Previously he worked as the Director of Harpo Studios' The Oprah Winfrey Show, based here in Chicago, for which he won an Emmy for Outstanding Directing in a Talk Show (1994).
January 24th
Mark Wagner
Former President of Walgreens
From 2010 to 2017, Wagner was president of operations and community management for Walgreens, based in Deerfield, Ill. A 40-year veteran of Walgreens, Wagner started as a service clerk, was soon promoted to store and field management roles, and eventually took on senior leadership roles including company treasurer, senior vice president of store operations, and executive vice president of store operations. Wagner earned a B.S. in Marketing from Northern Kentucky University, and an M.B.A. from Western New England College in Springfield, Mass. He is active on several boards in the Chicagoland area, ranging from community cultural activities to services.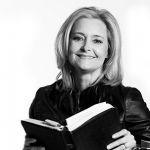 February 14th
Donnita Travis
Founder of By The Hand Club For Kids
After serving as a volunteer to children in Cabrini-Green for five years, Donnita stepped down as president of an advertising agency in the year 2001 to establish By The Hand Club For Kids, an after-school program that emphasizes academic excellence while nurturing the whole child — mind, body and soul. Donnita received her MBA from Northwestern Kellogg School of Management in 1996. Awards and recognition include Today's Chicago Woman "100 Women Making a Difference" (1998); Northwestern Kellogg School of Management Social Entrepreneur of the Year (2010), and Mayor Daley's SAGE Award (2010). Donnita serves as a full-time volunteer at By The Hand Club For Kids.
February 21st
Keme Carter
Professors & Associate Dean of Admissions
University of Chicago Medical School
Dr. Carter obtained her undergraduate degree from Vanderbilt University in 1999 and graduated from the University of Alabama School of Medicine in 2003. Her work in undergraduate and graduate medical education has been recognized through her induction as a fellow in the Academy of Distinguished Medical Educators and by several awards including the Doroghazi Outstanding Clinical Teaching Award, the Emergency Medicine Clinical Teacher of the Year Award, and the Biological Science Division's Distinguished Educator/Mentor Junior Award. In recognition of her empathy towards patients and service as a role model for medical students, Dr. Carter was the recipient of the Leonard Tow Humanism in Medicine Award.